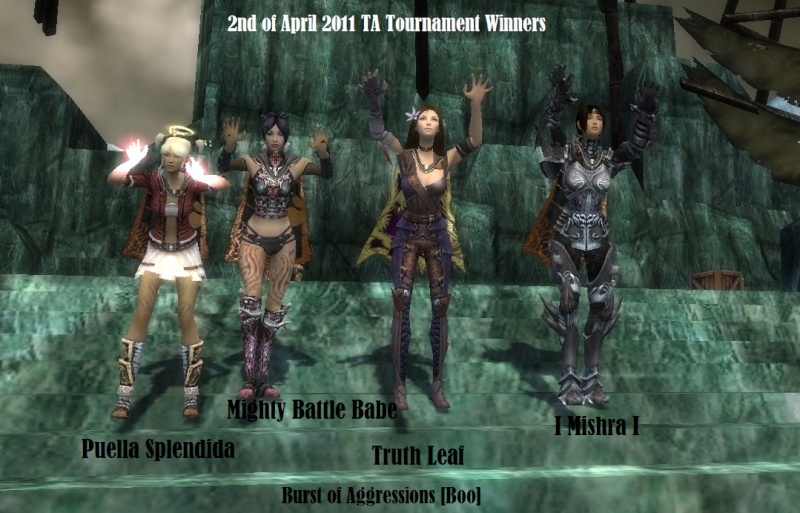 Upper Division:
1. Burst Of Aggressions [Boo]
2. Hi We Were From [TA]
3. Shisha's Team
3.. R A Grandmasters [1oo]
4. Mozi's Team
4. Die Boo Vernichter/Champions
4. [GiGa]
4. Yuri's Team
Lower Division:
1. Gangster's Team
2. Laniq's Team
3. [KinG]
4. Team CaLL (forfeited 2. Round)
5. Vier Für Gargamel
6. Pressure To Pleasure [PP] (forfeited)
7. Die Schaltraeger [alex] (forfeited)
8. Warlords Of Dhuum [WOD] (forfeited)
Special thanks to our Group Coordinators who have worked many hours to make this event possible! Thank you to Artemis Riganai (Grp A), Boo Fan Forever, Sense Der Avatrin (both Grp B), The Lucky Pig (Grp C) and Rocketeer Aerox (Grp D)!
Video of the first Final match:
https://www.youtube.com/watch?v=jc88wVhGUkg
(check quality settings!) If this video is being blocked in your country, try this one (music in 2nd half missing):
https://www.youtube.com/watch?v=Trq42Mc31jA
Please excuse my poor video editing :p
Second match:
https://www.youtube.com/watch?v=BVSVlW2w43A
(check quality settings!)